The COVID-19 pandemic has changed virtually every aspect of life at school, at home, and in the community, and has highlighted the critical relationship between health and education.  School closures have impacted 91% of students worldwide. The Rales Center has curated resources and materials for a variety of audiences below.
Webinar
Wondering why schools are closed and what it would take to open them? The Rales Center and the Consortium on School-Based Health Solutions hosted a webinar: "COVID-19 and Schools: The public health case for closing schools and where we go from here" Featuring Dr. Tina Cheng, Pediatrician-in-Chief, Johns Hopkins Children's Center, Dr. Eric Toner, Senior Scientist, Johns Hopkins Center for Health Security, and Dr. Katherine Connor, Rales Health Center Medical Director, May 11th, 2020. You can watch a full recording of the webinar here.
Follow us on Instagram
The Rales Health Center team has an Instagram page where we will be sharing education and health information. Follow us HERE
School Closure News and Resources
The COVID-19 School Closure Response Checklist (SCRC) from the eSchool+ Initiative is intended to guide school and district leaders and other key stakeholders in the decision-making process as they navigate caring for students during COVID-19 school closures. It is designed as a resource to help school teams think collaboratively and responsibly about five essential components of care that are negatively affected by school closures:  1. Continuity of learning, 2. Food security, 3. Health, 4. Housing and safety, 5. Supervision.  See the complete Checklist.
How school closures for COVID-19 amplify inequality pandemic-related school closures have posed challenges for school districts and families across the United States. According to Annette Anderson, an assistant professor at the Johns Hopkins School of Education, those challenges are especially pronounced in schools that serve lower-income communities. Read JHU HUB article here. 
"When governors reopen states, the decision to reopen schools will be a particularly challenging consideration" listen to experts from the Johns Hopkins School of Public Health and the School of Education on the podcast

"Public Health on Call"

hosted by Dr. Joshua Sharfstein.
Johns Hopkins COVID-19 School Closures News Roundup:  Weekly summary of national news on school closures due to COVID-19 published by the Johns Hopkins Consortium on School-Based Health Solutions, The Berman Institute of Bioethics, and the Center for Safe and Healthy Schools at the Johns Hopkins School of Education. You can also sign up to receive the weekly digest by email.
Learn the basics about COVID-19 and how you can become a public health warrior and stop the spread of the novel coronavirus. From the Johns Hopkins School of Public Health
Social Inequalities and COVID-19
This map from COVIDMINDER illustrates how states with greater social inequality have higher COVID-19 mortality rates.
Data from Washington University in St. Louis illustrates the sharp growth in housing requests following COVID-19, particularly in high-poverty ZIP codes. Their data also shows that while people in high poverty ZIP codes make up only 10% of the population, they account for 39% of food assistance requests during COVID, suggesting that the burden of the pandemic is being shouldered disproportionately by high poverty communities. Read the full article here.
The Social Interventions Research and Evaluation Network (SIREN) from the University of California, San Francisco has published a list of articles connecting the COVID-19 pandemic with social determinants of health and equity. You can find the full list here.
The Color of Coronavirus: COVID Deaths by Race and Ethnicity in The U.S. The pandemic is disproportionately impacting racial/ethnic minority populations, particularly Black Americans. "The novel coronavirus has claimed more than 75,000 American lives through May 7, 2020… For each 100,000 Americans (of their respective groups), 40.9 Blacks have died, along with about 17.9 Asians, 17.9 Latinos and 15.8 Whites. These rates are so disparate it can be hard to appreciate what this means. To put it plainly: If Black Americans had died of COVID-19 at the same rate as White Americans, at least 10,000 more Black Americans would still be alive."  Read more from APM Research Lab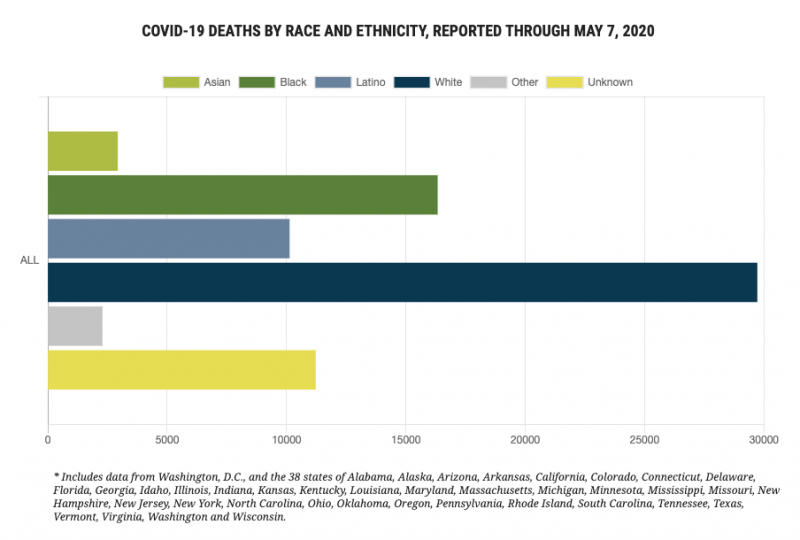 Health Resouces for Parents and Educators
COVID-19 Basics
Support for Gifted and Advanced Learners
Books and Coloring pages
Nutrition
Physical Activity
Mental Health
Sleep
Parents Well-Being