---
School Re-Opening in the Era of COVID-19
Public health principles and practices for school districts
Rales Center Team partners to offer a series of seven web-based learning modules that provide U.S. school & district officials with best practices to reduce COVID-19 risks for kids, teachers, and staff during in-person learning. These educational modules focus on a range of best practices and guidance on topics such as masking, distancing, ventilation, and creating cohorts of students, as well as screening and testing approaches. Access the modules here: https://schoolhealth.jhu.edu/covid19_resources/modules/
Topics include:
How COVID-19 is transmitted in schools
How to implement public health mitigation strategies like face coverings, distancing, and cohorting
COVID-19 screening types and strategies
COVID-19 testing strategies
Monitoring COVID-19 inside and outside of school, including data schools need to track
Communicating with stakeholders about COVID-19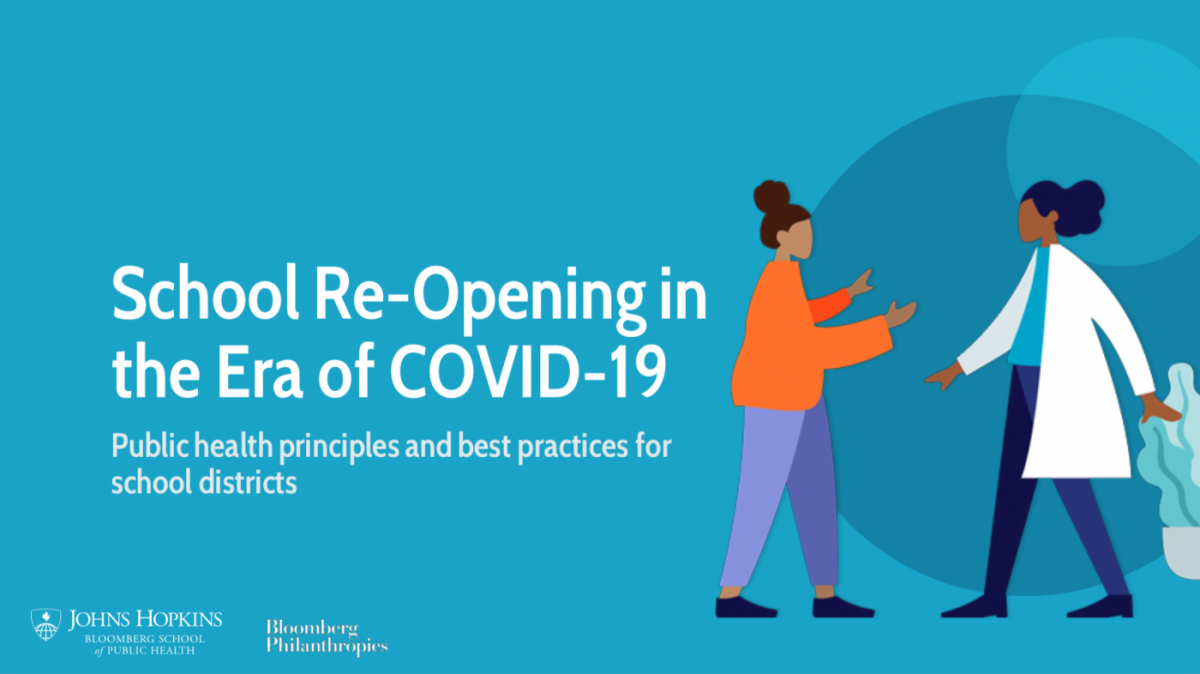 The Rales Center's Response to COVID-19
The COVID-19 pandemic has emphasized the critical relationship between health and education. The Rales Center approach, in which health professionals and educators work collaboratively, allowed our team to pivot quickly to support student and staff well-being during distance learning. Our report The Rales Center during COVID-19: Implications for best practices in health and educational integration is now available. We highlight three areas:
The role of integrated school health and education during COVID-19
How school health can support students during distance learning
Innovations and best practices developed for distance learning can they translate to in-person school?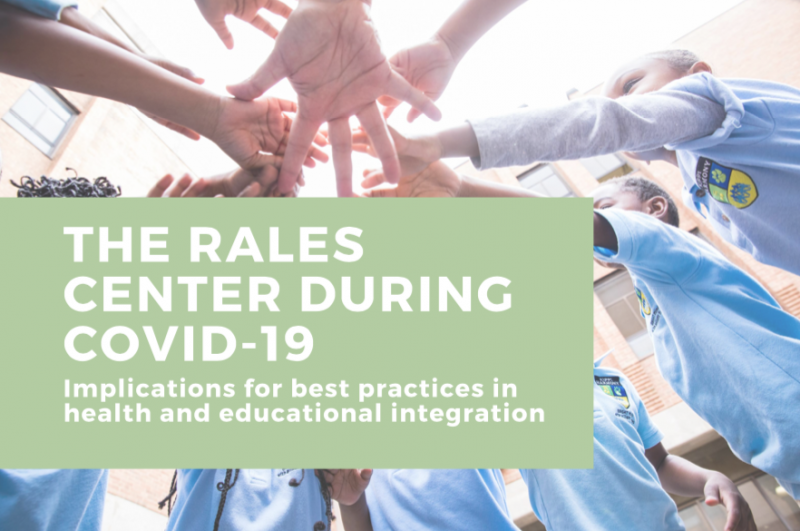 Rales Center Technical Assistance
The Rales Center team has worked collaboratively with KIPP Baltimore to meet the health and social needs of KIPP students during the pandemic. The Rales Health Center has provided telehealth visits, school nurses check on students with health needs, our family advocate helps to connect families with needed resources, and our Wellness Team has developed socio-emotional learning curricula that can be delivered remotely. The Rales Health Center is also offering immunizations to students across the District to make sure that every student is fully immunized in advance of the 2020-21 school year.
Alongside our work in partnership with KIPP Baltimore, Rales Center experts have provided local, national, and international technical assistance for school re-opening. Areas of expertise include public health mitigation strategies to reduce COVID-19 transmission, scientific communication and risk assessment, screening and testing algorithms and best practices, and the role of school-based health centers and school nurses in the pandemic response. See our "news" section for media interviews, webinars, and other work in this area.
Planning and Considerations for School Re-opening
As the United States struggles with reopening, schools are at the forefront of the conversation about concrete next steps for re-opening the country. Not only will schools need to reopen in a way that protects the safety and health of students, teachers, and staff, but they will need to find new ways to help students make up for the losses in learning, health, and support systems that occurred as a result of school closures.
In response to these many uncertainties, the Rales Center has partnered with the Johns Hopkins Consortium for School-Based Health Solutions, the Berman Institute of Bioethics, the Johns Hopkins Center for Safe and Healthy Schools, and the Johns Hopkins Schools of Education, Medicine, and Public Health to create resources to support decision-making. This collaboration, called the eSchool+ Initiative, is designed to bring issues of equity to the fore in the conversation of school closing and re-opening. Several key resources are now available:
TRACKING STATE AND NATIONAL SCHOOL REOPENING PLANS
This interactive state tracker curates school reopening plans by state, as well as guidance documents by non-governmental organizations, along six operational criteria: 1) Core Academics; 2) SARS CoV-2 Protection; 3) Before/After School Programs, including Athletics, Childcare, and Extracurriculars; 4) Building Access & Student Transportation; 5) School Health Services; and 6) Food and Nutrition, and six ethics and equity criteria 1) Parent Choice; 2) Teacher and Other School Personnel Choice; 3) Children with Special Needs/IEP/ESL/Gifted & Twice Exceptional; 4) Children of Poverty, Children of Color, Systematic Disadvantage (Low-Income Parents & Parents who are Essential Workers); 4) Privacy; and 6) Engagement and Transparency.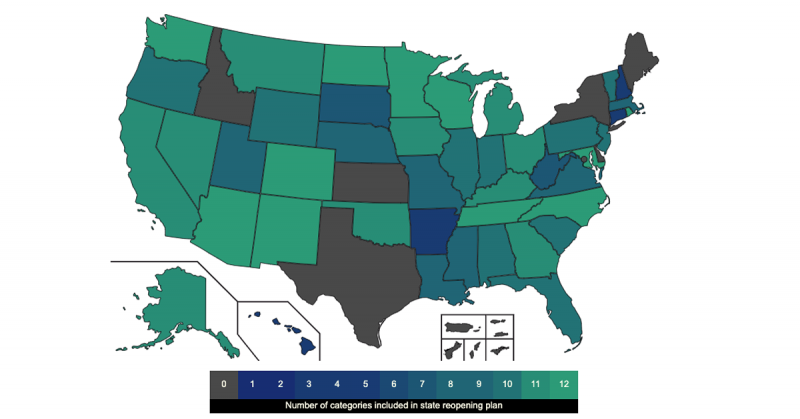 THE ETHICS OF K-12 SCHOOL REOPENING: IDENTIFYING AND ADDRESSING THE VALUES AT STAKE
Guidance on the challenges schools will face as they reopen their doors needs to take account of the ethical issues at stake. The eSchool+ Initiative frames school re-opening around four broad moral values—well-being, liberty, justice, and legitimacy—and how policies under consideration can promote or undermine these moral values. VIEW WHITEPAPER
COVID-19 SCHOOL REOPENING CHECKLIST
A tool to assist school and district leaders and other key stakeholders in the decision-making process as they navigate school reopening. It emphasizes areas in need of attention from an equity and ethics perspective. Decision-makers can use the Checklist to systematically assess needs and resources for reopening in six areas: continuity of learning, infection control and facilities, food security, health, housing and safety, and student supervision. VIEW CHECKLIST
EXAMPLES OF EQUITY-ORIENTED REOPENING POLICIES
A continuously updated list of equity-based school reopening policies under consideration or being implemented by school systems around the country. VIEW OR DOWNLOAD
SCHOOL NEWS ROUNDUP
The eSchool+ Initiative, A biweekly e-newsletter provides the latest information about schools and the COVID-19 pandemic. Browse the archive and sign up to receive the newsletter by email.
Subscribe
---
Webinar Series
A summer webinar series examining various issues in school-re-opening. Watch recordings of past webinars:
Other Resources
Tracking MD School District Closure Plans
This tracker provides a snapshot of how different districts are responding to school closures focusing on five critical areas: 1) continuity of learning; 2) health; 3) food security; 4) supervision; and 5) housing/safety. Data come from publicly available sources, most commonly district websites. It is updated biweekly, and only contains information about actions the district is currently taking, not any previous policies. Data is currently included for all Maryland public school districts as well as a sampling of other districts in California, Florida, Michigan, New York, and Washington DC.
Tracking MD School District Closure Plans
School Re-Opening Response Checklist (June 2020)
School closures have impacted all K-12 students in the US. It is important to acknowledge, however, that not all students have been affected equally. Students from disadvantaged groups have the most at stake as schools grapple with the difficult questions about how and when to reopen. A critical step in addressing the equity issues posed by school re-openings is engaging stakeholders in ongoing conversations about what could and should be done to narrow the gap in impact of COVID-19 school closures and, at minimum, lessen the risks that these particularly hard-hit students will again suffer disproportionately as school returns. Access the checklist K-12 Equity Checklist
School Closures Response Checklist (April 2020)
This action guiding tool is designed to help school leaders develop contingency plans during school closures that support whole-child health and wellbeing. Five critical areas are considered: 1) continuity of learning; 2) health; 3) food security; 4) supervision; and 5) housing/safety. This tool outlines the kinds of questions school and district teams should be thinking about as they determine how school closures are affecting students and how schools can play a part in continuing to meet students educational, physical, social, and emotional needs.
Webinars
Wondering why schools are closed and what it would take to open them? The Rales Center and the Consortium on School-Based Health Solutions hosted a webinar: COVID-19 and Schools: The public health case for closing schools and where we go from here Featuring Dr. Tina Cheng, Pediatrician-in-Chief, Johns Hopkins Children's Center, Dr. Eric Toner, Senior Scientist, Johns Hopkins Center for Health Security, and Dr. Katherine Connor, Rales Health Center Medical Director, May 11th, 2020. You can watch a full recording of the webinar here.
The Impact of the COVID-19 Pandemic on Adolescents
Children and adolescents may appear to be less at risk for severe COVID-19 symptoms, but the pandemic has significantly disrupted their lives in other ways. Social distancing and the interruption of typical school routines can be especially challenging for adolescents. In this interview, Tamar Mendelson and Beth Marshall from the Johns Hopkins Center for Adolescent Health and the Rales Center discuss the impact of the COVID-19 pandemic on adolescents, and what parents can do to help. Read the article here.