Thank you to all of you who participated in our webinar "COVID-19 and Schools" on May 11th, 2020. You can watch a full recording of the webinar below. A pdf copy of the slides is also available here. Please share with anyone who can benefit from this information.
If you have any questions, email us at ralescenter@jhmi.edu
You can also follow us on Instagram @raleshealthcenter
On this webinar, the Rales Center team along with the Consortium on School-Based Health Solutions and Johns Hopkins experts will discuss the public health rationale for closing schools, what policymakers and school leaders are grappling as they decide how to re-open, and hear about ways that school health programs can help fill in health gaps for kids during school closures.
Join us on Monday, May 11, 2020, from 12 to 1 pm EDT, via Zoom. Registration is now closed
---
You can watch a recording of the webinar here
---
If you have questions, please email us at ralescenter@jh.edu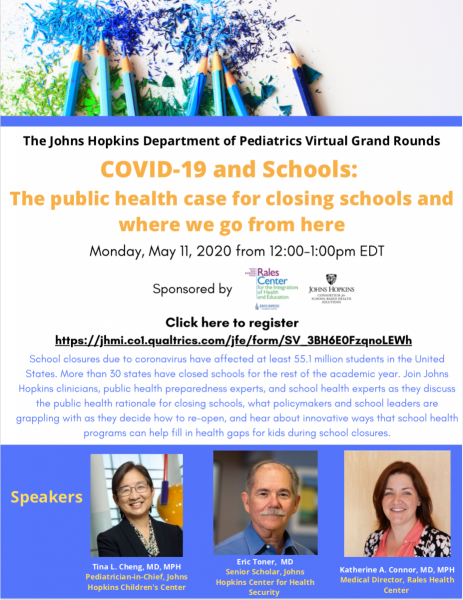 The Rales Center's work is highlighted in a Baltimore Sun Op-Ed on the Kirwan Commission's proposed school funding, which would expand resources to support student health and well-being in districts that serve a large proportion of students in poverty… From the Baltimore Sun